Looking for Spooky? Travel no Further...
Chris Anthony
I Put A Spell On You - Nina Simone
In 2007, Chris Anthony did a series of photographs called "Victims and Avengers," for which he won a 2007 Lucie Award nomination for Deeper Perspectives, the 2007 Grand Prize Winner American Photo's Images of the Year:
"Basically these pictures deal with domestic violence," at the point of "the final straw. They've taken vengeance and have murdered their husbands or fathers." The audience is viewing the "moment of release, like the calm after the storm."
Domestic violence "is something I grew up with," he says. "I saw it and heard it as a little kid. It's been with me all my life—The uncomfortable and horrific situations that you're in as a victim or a witness."
Emily and Zooey Deschanel are the models in most of this series. Here is Zooey singing "I Put a Spell on You." ("You better stop the things you do....No, I ain't lyin...")
I Put A Spell On You - Zooey Deschanel
(Zooey Deschanel)
Curator Hannah Sloan included Anthony in a group show titled "Queen of the Night: Women Under the Influence 1963–2006" at Berman Turner Projects in Los Angeles this past spring. "I wanted to do a theme about women on the border of reality and fantasy," says Sloan.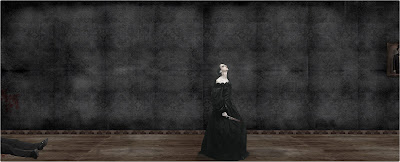 She saw the series as "a gruesome fairytale, which I thought [was] a good way to talk about domestic violence."
Anthony usually exhibits his images as large prints, usually 4 x 7 feet, in order "to have a lot of negative space...[and for] the viewer to feel these big, ominous, daunting rooms," he says.
As for technique:
His favorite is large format photography, using film and then scanning and printing using inkjet. "I've been buying really old lenses — like from the turn of the century — and using them with my 5×7 and 8×10 cameras. Everything old is new again." Once he's taken the photos, he scans them into the computer, stitches bits and pieces together, and then prints using the 24-inch Epson 7800 Stylus Pro ink-jet printer. "I've settled on working with William Turner paper by Hahnemühle. It's a very thick, cotton paper, with a little bit of texture. I love the feel of the paper."
CHRIS ANTHONY SAYS:
I started shooting bands when I was pretty young, like twelve or thirteen. I was living in Sweden, had a fanzine, and I shot shows and stuff like that. I was really not interested in photography as much as the music business, but photography was a way to get access to all of that. Over the next couple of years, I got better at it, and when I was fourteen or fifteen I was actually doing it semi-professionally. I moved to Italy to study art history, and at one point I stopped cold with photography and went into film– for the next eleven or twelve years, I worked in film and was a director. That really formed the way I like make pictures these days—with a certain narrative quality I think they have – each one feels like it could be a still frame from a scene from a film. I like to create a little world with characters as opposed to doing straightforward portraiture or shooting models or that sort of things. About four or five years ago, I picked up on photography again. I had found a new passion for it, and came at it very much influenced by what I had learned and done in film.
In an interview with F Stop magazine, he addressed a few aspects of his style:
F STOP: It seems like all these images have a vintage look to them, what interests you about that style?
Anthony: I guess it's a set of aesthetics or tastes that's derived from many things. I was born and raised in the countryside in Sweden. I lived in Stockholm. We lived in the south of Spain. I lived in Morocco, then in New York, then back to Sweden. Of course, I went to study art history in Italy. I think this helped me appreciate a lot of European history and the aesthetics of certain time periods since I was really young. I was never really interested in modern, like 20th century art, or modern architecture; somehow that other Victorian time period really appealed to me always. I almost wish I lived in that world; it's definitely very much a part of me. Of course when it comes to the two dimensional art that I like, it's derived from the mid 19th century British painters and pre-Raphaelites and the symbolists. I love that. I love the Renaissance. I'm also more influenced and inspired by painters than other photographers. It's a feeling that really appeals to me. I guess it's natural that it finds its way into what I try to do myself.
(Speaking of a different series):
F STOP: Where did you come up with the idea for using the little people in this series?
Anthony: It's really just something from when I was a kid, I was kind of obsessed miniaturization. I could just sit there and stare at mundane objects on the table top, like an ashtray, a book, a pencil or something, and imagine myself being a few inches tall and how I would relate to the normal world being so little. Hours could go by where I would dream about that sort of stuff. It was always fascinating to me when I was a kid. It kind of stuck with me always. The idea to actually do it in a picture occurred to me last year at some point. It was really just going to be one little set of small people that were the main characters that you were going to follow through different photographs, but I threw that idea out. The idea of sticking with the little people, though, that was kind of fantastic, and also a little funny, with a little humor and not quite as dark and serious as the Victims and Avengers stuff.
He's also won several awards for his commercial work with bands and products. For example, the 2007 International Photography Awards: Professional Photographer of the Year in Advertising/ Music; 1st Place: My Chemical Romance "Black Parade" and the PDN 2007 Photo Annual: Winner in the Corporate category for My Chemical Romance "The Black Parade" Winner in the Advertising category for Sony Playstation 3 "The White Room Series."
"Black Parade"
and the Black Book Raw 20 Photographers 2008
Go Indie Photo Contest/ PDN Stock Photo Guide 2007 Professional Grand Prize Winner and Category Winner for "I'm the Most Normal Person I Know"
This was the show opener:
"Too Few Virgins"
Another recent series, and his first to use the outdoors as a backdrop, is Venice. He says:
"Venice is a metaphor for a sinking city, deserving of nature's wrath, leaving its citizens to tread water and explore new ways to sustain life on aquatic earth."
(Click on the photo and enlarge to see her face...)
The man seems ready for the time of reckoning and punishment, which makes him a good medium for ghosts, hauntings, and half-drawn children standing awkwardly in huge empty rooms as if abandoned suddenly by their maker:
Other images I couldn't manage to "borrow" are here:
http://www.coreyhelfordgallery.com/#/show/past/